It is indeed my pleasure to bring to you 30 Days of Bible Basics.
The idea to create a resource to empower a new believer significantly has been in our hearts for a long time now. Our search for this one resource that would work as a basic foundation for a new believer caused us to dive headlong into this project.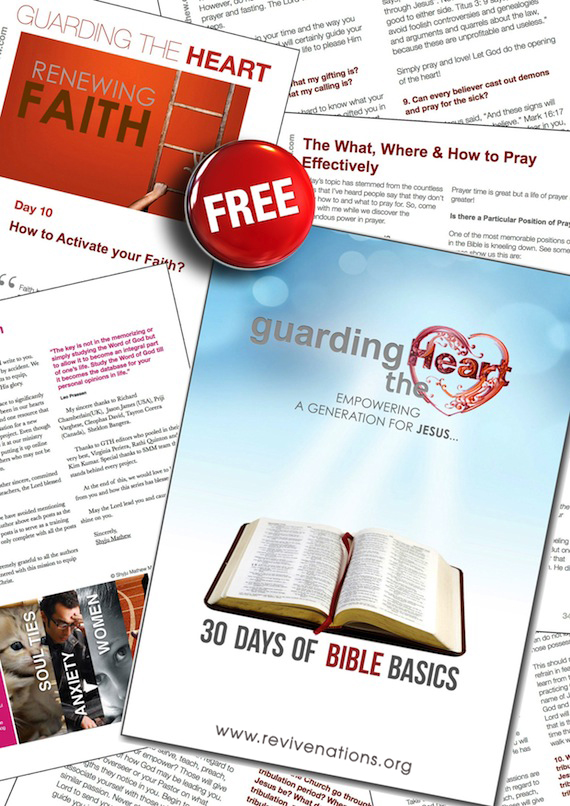 Even though we initially planned to use this book for our ministry crusades, we decided that putting it up online would help thousands others who may not be able to meet us in person.

This book will guide a believer on a 30 day walk through the Word of God to fully grasp elementary but essential Christian foundational teaching and equip them in their continuing walk with Jesus!
30 Days of Bible Basics 
Day 1  –  The Father, Son & the Holy Spirit – Understanding The Trinity
Day 2  –  Father God and His Heart For Us
Day 3  –  Who is Jesus? Answering a Question That Millions Have Asked
Day 4  –  The Holy Spirit? – Third Person in the trinity – Your Helper!
Day 5  –  Spirit, Soul and Body
Day 6  –  What is Sin? And How to Overcome It!
Day 7  –  What Did Jesus Do For Me?
Day 8  –  How to Follow Jesus – 6 Practical Ways!
Day 9  –  Water Baptism – Why, How & Most Asked Questions
Day 10 – How to Activate Your Faith
Day 11 – The What, Where & How to Pray Effectively
Day 12 – What is Worship?

Day 13 – How to Read the Bible and What Matters the Most
Day 14 – Is the Bible True?
Day 15 – Understanding Christian History – Where Did Christianity Root From?
Day 16 – How to Know The Will of God?
Day 17 – 5 Ways to Receive the Power of the Holy Spirit
Day 18 – What are the Gifts of the Holy Spirit?
Day 19 – All You Need to Know About Speaking in Tongues
Day 20 – Red Hot Temptation!
Day 21 – What is Witnessing? – 7 Keys for Fruitful Witnessing
Day 22 – Spiritual Warfare – Weapons of a Believer
Day 23 – Leadership in the Church – The Five Offices of the Church
Day 24 – Living the Life, Walking the Talk
Day 25 – Serving the Body of Christ – Who, How & 4 CheckPoints
Day 26 – Life of Giving – Tithes, Offerings & First Fruits
Day 27 – Fellowship of Believers – How Important is it?
Day 28 – Truth About the Second Coming of Jesus
Day 29 –  Final Reminders – Finally, I Urge You
Day 30 – FAQs – Top 10 Questions of 30 Bible Basics
The Lord also sent sincere, committed and passionate Bible teachers to help us with this book.
We have intentionally avoided mentioning the names of the author above each posts,(unlike how we do with our guest posts) as the objective of these posts is to serve as training material.
However, we are extremely grateful to all the authors who have partnered with this mission to equip the body of Christ.
My sincere thanks to Richard Chamberlain (UK), Jason James (USA), Tayron Corera (Canada), Priji Varghese, Cleophas David, and Sheldon Bangera
Thanks to Revive Nations editors who have pooled in their very best, Virginia Pereira, Rathi Quinton and Kim Kumar. Special thanks to the RN team who work behind the scenes on every project.
We are giving away this book for free as we desire that this book reaches all new believers in Christ or in the hands of all those who genuinely want to empower a child of Jesus.
To receive this copy in your inbox, simply follow this step:
Subscribe to this blog here on the right sidebar or below this post. And check your inbox to approve the link in the subscription confirmation email.
(Didn't find the confirmation link in your inbox? Please check your spam/junk folder and put us on safe senders list.)
Bonus: You also get to download Guarding the Heart Series PDF!
Additionally don't forget to, Tweet, Share, Google + or Email this post to someone you want to bless. Thank you for helping us spread the Word of God.
Printing this material for any commercial purposes is prohibited unless for personal reference or group study purposes. For any bulk printing or distribution, permissions can be granted upon request at [email protected]
Can't wait to hear from you!
Shyju