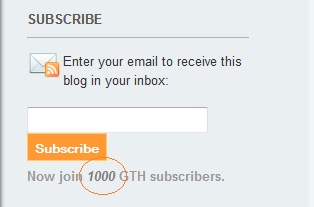 Dear GTH friend,
Hurray!!! We just made it to 1000 subscribers on GTH!
Now this wouldn't have been possible without YOU.  And I want to write this post as a special thank you note to you; and also to mark this mile-stone as we learn to be grateful to God for every small and big promotions from the opportunities He trusts us with.  
Why we do what we do:
This is beyond just you and me. It has to do with the legacy we leave behind for our children. See Malachi 2:15, "Has not [the LORD] made them one? In flesh and spirit they are his. And why one? Because He was seeking godly offspring."
It has almost taken decades for some of us to understand the profound truths from the word of God. And praise God, our children don't have to necessarily start from the scratch. God has given us the privilege to raise-up a godly offspring that fears and love the Lord with all their heart.
We will bear much fruits if we continue to abide in Him and see life with eternal perspective.
Your role in shaping GTH:
And of course, couple of years ago when I started haphazardly blogging, it was another media platform I was being curious about. But it was your involvement, response, comments, correlation, that changed this random blog into GTH blog and encouraged me further to be consistent in my writing efforts.
Behind the scenes:
I also need you to know that it is not just me but the faithful Revive Nations family that works behind the scene on the various aspects of this blog like designing, coding, scheduling and brushing my not-so-careful language into a readable one. I thank them and all of you for being a part of this journey and it's been such an honor to serve my generation for JESUS Christ, our Super Star!
Coming soon:
You can expect some very informational and exciting posts and series ahead. We hope to keep you more informed and delighted through our 'Simple Sundays' posts and further edified through our 'Thirsty Thursday' posts.
Still giving away:
If you have found my blog posts valuable, would you share them with others? We are still giving away our first free GTH e-book, Guarding the Heart Series to everyone who subscribes to the GTH email updates. (You can also partner with Revive Nations to receive my first book, Why God  Established David)
Your friends or followers can subscribe to receive this blog in their inbox by clicking on this button:

You can just forward them this by email or post a message on your favorite social network. Thank you.
Sincerely Yours for Christ,
Shy
P.S – Do you have anything you are thankful to God about this month?

Especially if you have been reading GTH and never commented on GTH before, don't you hide now. 🙂 Write to us at

[email protected]

.