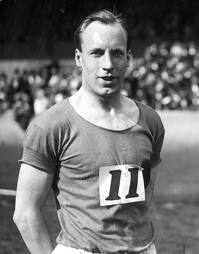 On the 27th of July 2012, when the fireworks light the sky over London, the British capital will become the first city to host the Olympic Games three times.
The first Olympics in 1908 was originally scheduled to be held in Rome and Naples, Italy but Mount Vesuvius erupted to spoil the plan. London was the second choice.
Due to World War II, the Olympics were cancelled for the following 12 years, resuming in London.
The modern Olympics ceremony commences with the hosting country's national anthem. The Olympic torch is brought into the stadium and the Olympic flame in the stadium's cauldron is lit to signify the start of the games. It is only after all the games that the Olympic flame is extinguished.
And among many thousands of competitors, there are some among them that desire to bring glory to their Creator first before their country. One among them is Eric Liddell.
"We are all missionaries. Wherever we go we either bring people nearer to Christ or we repel them from Christ." ― Eric Liddell
What Legacy Will You Leave Behind?
One great inspiring personality is Eric Liddell. In the 1924 Olympics, he took bronze in the 200 meters final, went on to win gold in the 400 meters where he also set a new world record.
Talking about those great races he said, "I believe God  made me for a purpose, but He also made me fast. And when I run I feel His pleasure."
Eric was a world class sprinter however he did not win the 100 meters because when the schedule was set he discovered that it was a Sunday. Eric decided not to run because he was a Christian who honoured God and decided to go to Church on that Sunday.
And so on 6 July 1924, while his competitors raced the first two rounds of the Olympic 100m, Liddell was delivering the weekly sermon at the Scots Church on Rue Bayard.
His decision to avoid the 100m was criticised in the press and even in parliament but his decision was absolute. "I object to Sunday sport in toto," he said.
Following the steps of his missionary parents, Eric went to China. When hundreds of well-wishers turned up at Waverley Station as he began his journey to China, he was asked to deliver a speech. Eric simply led the crowd in singing the hymn, "Jesus Shall Reign Where'er The Sun."
Even though he had only one Olympics and one gold medal, he is known much more than many other Olympians. His life has been recorded in a dozen biographies, a film and at least two TV documentaries.
Eric inspired and shook the imaginations of millions by tossing away his chance of a gold medal in the 100 meters – the race everyone expected him to win – simply because his faith in Christ was more valuable than any gold this world could get him.
He died in China in 1945. He was buried in the garden behind the Japanese officers' quarters. His grave was marked by a small wooden cross.
Experiencing That Greater Glory:
"The good news is Jesus dying on the cross for us and we don't have to be lost. We can come to him and he can save us and we can follow him and have a purpose in life." Allyson Felix, silver medal 200meters, 2004, 2008
"In the Bible it says that there is only one way to heaven – Jesus Christ. If you are to get to heaven, it can only be through Jesus Christ. Jesus Christ is the way to heaven and the way to God." Dieudonne Disi, Rwanda – ran in 10,000 in 2004 and 2008
"Jesus died for us so that we can have eternal life. It is not about trying to do good but accepting the good deed done by Jesus and accepting him into your life." – Julian Bolling, Sri Lanka three time Olympian
"I believe that career and my fame will end some day. Jesus taught that there are more important things in this life, that there is eternal life. Because I know jesus Christ I am certain that I have found eternal life." Hendrawan, Badminton singles, silver medal 2000
After All The Games
After the London Olympics, the thousands of competitors will go back to their worlds. The lights shut and the arena will be dismantled. What then? Memories fade.
Next time, someone faster will race. Someone stronger will set a new record. The glory that this world offers is only temporary.
Talking about the trials we face today, First Peter 1 says,
"6 In this you rejoice, though now for a little while, if necessary, you have been grieved by various trials,
7 so that the tested genuineness of your faith—more precious than gold that perishes though it is tested by fire—may be found to result in praise and glory and honor at the revelation of Jesus Christ.
8 Though you have not seen him, you love him. Though you do not now see him, you believe in him and rejoice with joy that is inexpressible and filled with glory,
9 obtaining the outcome of your faith, the salvation of your souls."
That is our hope, the salvation of our souls for eternity. If you want this Jesus to come into your heart, He will come into your heart. Jesus loves everyone. He loves the sinner. No matter what your mess is, He is able to change you.
Say this Prayer With all Your Heart
"Dear Jesus,
Thank you for dying for my sins on the cross. I accept you as my Lord and Savior. Please forgive my sin and give me eternal life. Help me know you personally. I request you to come into my heart.
Amen."
Know more about Jesus here