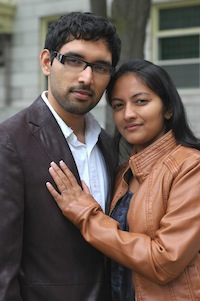 Dear Friend,
Although blogs are usually used as personal journals, we intentionally moved our blog from being a personal address to a platform to equip, encourage and empower people.
However, I want to share a personal request through this post.
The Lord has been very gracious to our ministry. SMMinistries was able to host its own crusades and conferences in Malaysia, Bangalore and Mumbai thus far. This September, the Lord is leading us to host major crusades in three different cities in Canada. With these meetings in Canada, dozens of churches are coming together and our expenses are going to be several tens of thousands of dollars. But having heard the call from God, we are moving ahead in faith. [Go here for full info about Revive Canada 2012]
After these meetings, we want to continue following God's direction in hosting similar conferences and crusades in other cities and nations.
More than anything else, we need your prayers today.
As some of you know, the core call of SMMinistries is to believe, pray and work together with churches to see God's revival fire spread from individuals to churches to nations! [See our ministries' five core purposes here.]
What we need today more than ever is a group of warriors that will stand with this vision.
Here are few ways you can be involved with Shyju Mathew Ministries (SMM):
1. Join S.W.A.T.

SMM Warriors Awakening Team (S.W.A.T.) is a group of prayer warriors who are signing up with commitment to pray for SMM.
The purpose of S.W.A.T. is to have continual prayer support for the ministry. If you have the passion to stand by our vision and the calling to intercede, this is for you. You will need to cover SMMinistries for an extended time (more than the usual) of prayer every day.
Additionally, we will update you on any other prayer requests that arise. Your first assignment will be to join us on a 40-day prayer (and fasting, only if the Lord leads you) for the meetings in Canada.
Go here for full info and sign up to join S.W.A.T.
2. Give

For the longest time, we avoided adding a donate button on our website. The Lord has been faithful to take care of us. However, with fresh missions and new directions, we want to give an opportunity to those who are interested to give.
I was recently amazed with how Paul requests the people of Corinth in 1 Corinthians 16:2. He says, "Now concerning the collection for the saints: as I directed the churches of Galatia, so you also are to do. On the first day of every week, each of you is to put something aside and store it up, as he may prosper, so that there will be no collecting when I come." 1 Corinthians 16:1, 2 ESV
Paul strategically requests them to put some money aside for the ministry on a weekly basis.
I personally would not want anyone to sacrificially give. But many may not agree with me because we've heard how sacrificial giving is a blessing (and that is also true). However, I believe we are one family – I would not want any of you to starve to bless us. The Lord is able to provide for us faithfully as we go ahead in obedience.
I only want you to give what the Lord lays on your heart.
Even if it is by you putting aside a small sum every month, I believe that the Lord will use that seed to bless the many crusades and the missions coming ahead. Please go here for full details.
3. Participate
Revival is not a one-man job. It is God stirring the heart of His bride to run after Him. We want you to be a part of our vision.
I urge you to actively participate with our ministry anytime we have a conference or a crusade in or near your city. If you can travel to these crusades, we will be all the more excited about it. (You will have to bear your own expenses).
Please take 30 seconds to partner with us for free, on our main site so that we can keep you updated on our ministry activities. This will also help us to notify you when we are visiting your city or country.
Have a thought? Suggestions? Ideas? Strategies? Please take a minute to share it with us on the contact page or even below here on the comments.
Although I have been in the ministry for nineteen years now, our organisation is only four years young. We need all the wisdom, love, support and prayers possible.
Thank you for listening patiently through this blog.
May the Lord bless you and cause His face to shine on you. May the Lord show more mercy to you than you extend to us.
Much love and prayers,
Shyju
"The fire shall ever be burning upon the altar; it shall never go out." Leviticus 6:13
P.S.: I would love to hear from you. Please leave your reply in the comment section below the post.