I feel like a kid, sitting in my favourite spot in Cafe Coffee Day, tears streaming down over a song played on the air by Laura Story.
Just to let you know Cafe Coffee Day is my makeshift office. This is where I write most of my blogs if not for in a flight.
I hear them play this song on the radio almost everyday from the past one week or more.
Why I am Overwhelmed?
Because the name of Jesus is being lifted up over the secular air waves. And believe me, the song is not a secular song with a hidden gospel agenda. The song is clear and plain about who is the Saviour of the world.
Here is how the chorus goes:
Jesus You are stronger
More than any other
Hallelujah what a savior
Jesus You are higher
My soul´s deepest desire
Hallelujah what a savior
You are the shepherd king
You lead us by still waters
Hallelujah You are savior…
It goes on to say…. Jesus is the way, truth and life.
You see, I live to see nations soaked with Jesus. Christ for people is good but I believe revival will make nations as a whole going to the feet of Christ. As this song is repeatedly being played on the radio, Jesus is being declared, the atmosphere is being soaked with God's love and mercy, and I believe it is as strong as prayer warriors praying for a nation. (If it's not already being played where you are, call your local radio station and request them to play this song)
See Video here:
Further it excites me and gives me hope, that pure talent will be recognised even on a secular platform no matter how plainly the truth is spoken.
So I want to encourage my friends- music makers, artists, worship leaders:
– Stop performing the secular to be accepted. If God can use a clearly Christian song to even reach the secular platform, God can use you too.
– Stop masking(hinting) the truth in the songs you write, give it to them plainly, and trust God to make the song a blessing to thousands, if not millions.
– Work hard daily. To be nominated to the Dove Awards, the Christian music equivalent of the Grammys, you cannot afford to have sub-standard work.
– Don't worry about being acknowledged. Did you know that Laura wrote the song, "Indescribable" (No.1 Worship hit) sung by Chris Tomlin. If you keep doing what you do faithfully, fame will follow you. The problem arises when we run after the fame.
– Keep on loving Jesus. No matter how much you rock and if you don't have Jesus shining through your life, then all the awards are in vain. Let Jesus be lifted through your life, in absolutely everything you do.
About Laura Story
[Laura Story Website | Follow Laura Story on Twitter]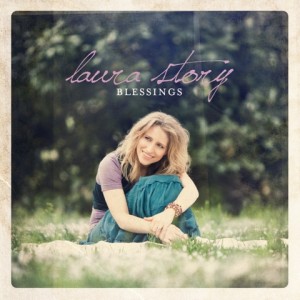 Laura began working in music and women's ministry at the 4,000-member Perimeter Church in Atlanta. After signing an artist deal with the INO Records, her 2008 national debut won a Dove Award for Inspirational Album and earned Laura two consecutive nominations for Female Vocalist of the Year – all blessings, indeed.
On the Other Side
2006 was a challenging year with her athlete husband being hospitalised for a brain tumor. Through these unexpected fires of fear and loneliness, she kept on seeing Jesus and the Lord kept releasing more of His grace through her life.
In an interview [Read here], she says, ""People ask how we're doing, and I like to say: 'We have a faithful God.' Every promise He has kept, every need He has met."
Without a doubt, blessings abound in Laura Story's life. Offstage, she and Martin love to be outdoors, riding bikes or trekking their way through the book 50 Hikes in North Georgia. She also meets women from church for coffee a couple of times during the week, talking one-on-one about the lessons their congregation explores in Sunday worship. And it all pours back into her musical gift.
Did Laura's life inspire you? Well, we would love to know how you have been using your gifts to proclaim Jesus in the world around you. Share below: