A New Year!
2013 has come so quickly. 2012 is now behind us as a memory.
I believe that 2013 will be "Festival Year!" for all our partners and friends!

A time when God looks on us with favour; His flaming eyes making way where there is no way. The year of rejoicing that comes from His visitation alone!
As you stand hand-in-hand with us, I want you to believe with us that in 2013, God will make your life a season of celebration. The year where tears will be wiped away and where joy dawns in your life.
How will this year truly be a time of celebration?
All happiness that surrounds material blessings will perish along with those material things. True joy comes from having God reign as King over our lives.
Because we are still safe in His hands, we will have fullness of joy; with or without blessings around us.
A Real Prayer
This year, I pray that you will be a matured believer; that you will think like Christ thinks and you will see how God sees.
A real prayer is that of Psalm 85:6: "Will You not revive us again, that Your people may rejoice in You?"
In 2013
May you make God proud this year!
I don't promise you a million dollars, but I pray that you will become like Jesus this year.
I don't promise you a two-storey house, but I pray that Christ will be made manifest through you in every area this year.
I don't promise you checks in your mailbox, but I pray that you will be an influencer in this generation; stirring a hunger for revival in anyone you come in contact with for His glory!
May God rip the heavens open to declare that you are His beloved child in whom He is well pleased.
May I plead with you to desire nothing more than God's smile this year. May His delight be your pleasure! Then, surely His pleasure will be your strength. And glorious celebration will overtake you!
P.S – The top three winners of 2012 for the most number of comments go to:
1. Kenneth Justin 
2. Elizabeth Mathew and
3. Nita (FaithinGod)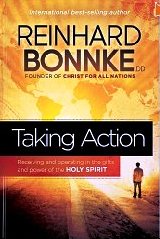 The winners receive the latest kindle book from Reinhard Bonkke – Taking Action: Receiving and operating in the gifts and power of the Holy Spirit.
Closely following them are: Bernadine Wicket, Esther4Jesus and J. Anitha
We love all your edifying comments and discussions. Thank you all for being a part of the GTH community.
Have a "Festival Year!"
Blessings and much prayers,
Wishing You a Blessed New Year 2013!!!
Love,
Shyju, Tiny, Kathryn & the SMM Team.