It gives me great pleasure to invite you to the 20th anniversary of Shyju Mathew Ministries (SMM). Keeping in mind this momentous milestone, we want to take time to celebrate God's faithfulness with all our partners and friends of this ministry.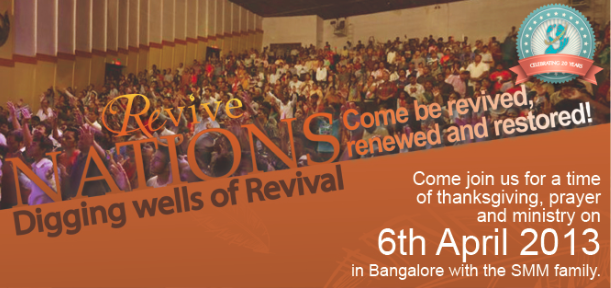 It has been a long journey from the day I first started preaching at the age of seven. I cannot forget my first ministry journey, running along while dragging a suitcase much bigger than me, trying to keep in step with the other preacher, at the age of eleven. And even though I knew my mom was tearing up, I was too excited to turn back and find out why.
And ever since, I've never had to turn back. Travelling and serving the Lord Jesus has been the greatest honour in my life. I am reminded of the Word, God gave our partners and friends at the beginning of this year declaring it to be a Year of Celebration and I want to take this opportunity to come together as one and celebrate God's faithfulness with you.
There will also be the unveiling of the next phase of SMM and some exciting new announcements.
This will be followed by the sharing of God's Word and prayers for the partners.
Date: 6th, Saturday, April 2013
Time: 6 p.m. IST
Venue: Garden City AG International Worship Centre, No.1244-1247,
Grace Town, Service Road, 1st Cross, 4th Block,
HBR Layout, (Hennur Junction), Bangalore – 560043
Contact: +91-9740673177
Participate: Kindly, join us in person with your family along with the global SMM team, at Bangalore to celebrate and to thank God.
Download: Brochure here.
Share: Would you kindly take a moment to share this on your facebook, twitter and other forms of social media, and help us spread the word about this service.
Closest Transport Access:
– By Train, 30mins from Bangalore Cantonment Station and 45mins from the City Railway Station
– 1 hour from Bangalore Airport
If you are from Bangalore city and would like to be a volunteer, please sign-up HERE.
Have a question or assistance required?
Leave a comment below or email us at [email protected]
I am excited to share this day with you and I hope that you will be able to join us too.
Love,
Shyju, Tiny & the SMM family.