Reading the Bible is beyond just reading for knowledge. You are holding in your hands Scriptures that carry power to change your life forever.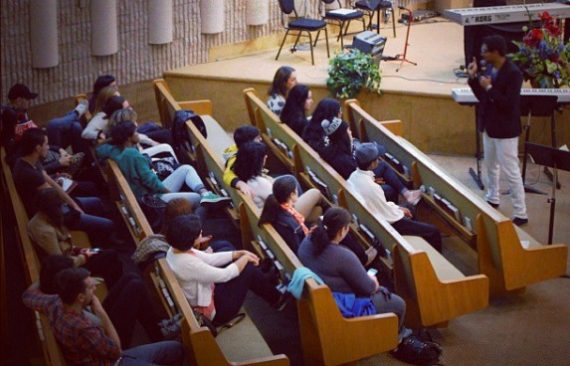 In this post I want to share with you these 6 tips that I shared at my young adult church service in Montreal recently.
Tip #1: Read the Word of God With Reverence
The more we respect the Bible and its values, the more we can receive the power of God that it contains.
Tip #2: Read the Word of God With Prayer
To read the Word of God without prayer is like reading any book in the dark. [ClickToTweet] You won't see what the Lord is trying to say, nor will it make sense to you. Rather, ask God to speak to you and to bring you to the verses He wants you to see. Pray while reading the Bible, and read the Bible while praying. Pray over every single verse and every single word, then it will become alive to you.
Tip #3: Read the Word of God With Worship
The Bible is a journey with God. If a verse stands out to you and blows your mind, then stop reading any further because that is God speaking to you, and just focus on that Scripture and worship God with it. Worship and Word is a dynamic combination that releases God's glory over your life. [ClickToTweet]
Tip #4: Read the Word of God With Repentance
God will surely speak to you when you have a heart of repentance. Have the attitude of "Lord, I need to fix my life and only You can do that." Be humble and open your heart to change as God shows you. The more you are open to obeying Him, the more God will speak to you about the areas that will bring change to your life.
Tip #5: Read the Word of God as Often As You Can
Sometimes we grow up hearing that we should read the Bible once a day. But, you can and you should try to read as frequently as possible. It's not about reading a whole chapter in one go. Break it into bits and pieces to read throughout the day in every bit of free time you get. Chew on God's Word, meditate on it, make it your own till the Word become a part of you. If you find a verse that sticks out then savour it and celebrate it.
Tip #6: The Bible is God
When you read and put the Word into practice, that is the Lord living inside you and manifesting through you. The Christ in the Scriptures manifests through our lives only when we abide in His Word.
Results of Reading the Word More:
1. You will overcome fear and discouragement.
2. Your calling/ministry is manifested.
3. Loving people becomes easier.
4. Listening to the Lord becomes easier. The more you read it the easier it is to know the will of God. The voice of God becomes louder.
5. The more you enjoy reading and obeying God's Word, the more you will walk in the Spirit and in the power of God.
Finally, don't just read your Bible but love your Bible. When you give the Bible the full value in your heart, that is when God will speak to you louder than you can imagine. Enjoy God today!
How do you read the Bible? We would love to know.