While we were ministering to our dear friends in Bethel, Montreal, Canada, they sang a song that became my instant favourite. I sang it all day; it kept ringing in my head and I even woke up with that song.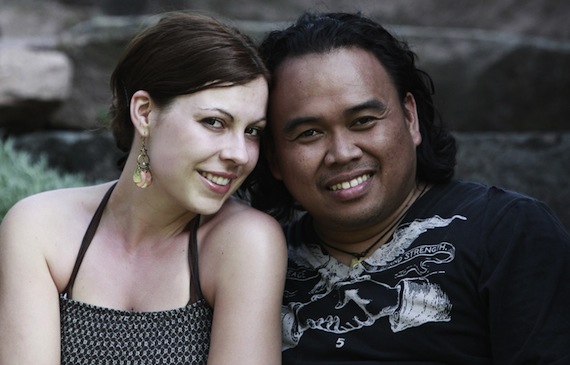 "Take all of me…." The theme of this song was etched on the inside of me. I later found out that this song was written by Rex Verzosa, one of the brothers from the church's worship team. Rex and his wife are precious people, who are so committed to love God. The story behind the song is even more powerful!

And here it is in his own words. Fasten your seatbelts:
"Take all of me, Lord I'm yours."
I don't know a better way to show my love & gratitude to God. Most people have their lives start out with a declaration from the doctor; "It's a boy" or "It's a girl." Mine started out with "There's a baby in front of your house."
One early July morning, Rogelio Verzosa – the man who I've come to know as my dad – woke up hearing a baby crying outside their gated home in Tagum, a city south of the Philippines. Thinking it was the neighbour's baby, they pretty much ignored the crying.
Thirty minutes passed, then an hour, and at this time their neighbours, who heard the same baby crying woke up to check what was going on. They rang the doorbell of the Verzosa's house with some unusual news:"Mr. Verzosa, there's a baby in front of your house."
That baby was me!
My name is Rex Verzosa, and July 13th – the day I was found -became the day I celebrate as my birthday. No one really knew where I came from. My dad searched the hospitals around the city and the midwives in our town for any clue as to whose baby I was, but came back with nothing.
A couple from across the road came to my dad and spoke to him: "Mr. Verzosa, since you already have five daughters & two sons…" (Oh yeah, I forgot to mention that) "… can we keep the baby, since we don't have any?"
My dad told them, "God left him at our doorstep. I would like to keep him in my family." Later on I also found out that they had an election going on in the household. My sister later told me that they had a vote. Since having a new baby was a responsibility, my parents asked them if they were for or against keeping me. The vote went unanimously to my favour.
Well, that's how it all began for me. Yup, that's just the beginning. Those are no coincidences; they were the fingerprints of the God I've come to know as my Saviour. Fast-forward & I'm now 35; in Montreal, Canada; married to a wonderful woman of God and a great friend, Melissa. How can I really put in words how grateful I am for all that Jesus has done for me, & all that He's been to me? Take all of me, Lord I'm yours!"
Now is that not powerful testimony what Jesus can do?!!
The worship team was nice to me by singing that song over and over again during our ministry time there, and finally blessed me with that song on CD. This song will be a part of their new album (yet to be named) that will be released soon.
Here is the full song on YouTube, and Rex has been very generous to allow me to give away this song to the GTH family! So make sure that you share this post with your friends, especially your worship team. Here's the video:
[youtube http://www.youtube.com/watch?v=KbNYvbsdG84?rel=0]

Love it? Just request for the audio below in the comments section and we'll get it sent to you.
Now are you singing: Take all of me? Share your thoughts below and I will request Rex to see your comments here too.