See all the Power Nuggets Here
To live somebody else's dream is to live in somebody else's shoes.
Against popular belief; a man's work does not define a man.
Remember you are not what you do but you are what God says you are.
Everyone is entitled to their own opinions. Your destiny cannot be tied to the opinion of the majority around you.
To live off the praises of the people around you is to choke on their criticism.
Don't let the fear of offending someone blur your focus from your destiny. The fear of offence is a destiny-killing trap.
Joseph was not afraid to offend Potiphar's wife in saying 'no', irrespective of the lies, slander and the dungeon.
Daniel was not afraid to say no to wine and the king's food.
And we know the story of Esau; To be accommodating of your hunger pangs is to sell your birthright for a soup.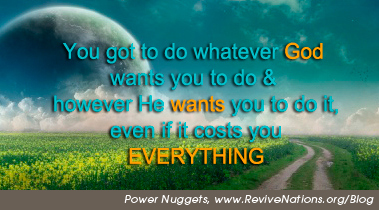 You got to do whatever God wants you to do & however He wants you to do it, even if it costs you EVERYTHING.
Popularity with man does not necessarily mean loved. Choose to be popular in the eyes of God instead! It is only God who will ever love us unconditionally.
Selah.