It's amazing how we are least prepared to face our problems till the problems now stand in our face. Then we fret, fumble and fear.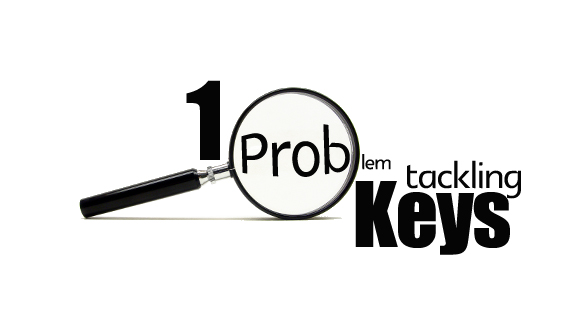 But no matter what your troubles are, here are 10 keys you need to remember to tackle every problem that comes your way:
Reminder # 1 – Stop Your Problems from Exploding
Most of our problems are not problems. Our problem is that we create a big issue about our problems. When we don't fix our eyes on Jesus then we are like a drowning man. [ClickToTweet] Today remember to take a deep breath and smile at your problems like John whose head was on the shoulder of Jesus.
Reminder # 2 – Refuse to Be Shaken
Stop freaking out and stop sharing your problems with those who'll make you freak out! [ClickToTweet] It's true, there are some who are exceptionally talented in increasing your anxiety. They'll sigh with you, cry with you and help you in breaking your heart. Stay away from such people.
Reminder # 3 – Death Paves to Victory
I know that doesn't make sense to an unbeliever, however that's our only hope as children of God. The pain we go through is only a sign of a birthing that's nearing. [ClickToTweet] And our Master has taught us well through His life on earth, death paves to victory. For us to die is to live through Jesus. And every sorrow we go through turns to laughter because we love Jesus. (Rom 8:28)
Reminder # 4 – Gather Your Emotional Strength
King David is commended for gathering his strength in the Lord. Sometimes the only prophet you'll have is yourself. Lay hands on yourself and proclaim God's victory over your life. No, you are not going down in depression and anxiety attack does not stand a chance! [ClickToTweet]
Reminder # 5 – Anchor Your Patience
You'll need a lot of it. Christians love instant miracles. But sometimes God's just working. James 1:2-4, "Count it all joy, my brothers, when you meet trials of various kinds, for you know that the testing of your faith produces steadfastness. And let steadfastness have its full effect, that you may be perfect and complete, lacking in nothing." Trust God's time for a miracle over your urgent need to see a miracle. [ClickToTweet]
Reminder # 6 – Think Faster
Sometimes our brain shudders in shock. We let go of the gift of thinking. We make stupid mistakes. Thinking calmly will help you be bold with the gentleness of Christ. [ClickToTweet]
If thinking is not feasible at the moment, how about finding someone who can think for you. Make sure that someone has lived life long enough, loves God with all his/her soul and is rooted in God's Word above all. Think – may be it's not all that bad as you think it is! [ClickToTweet]
Reminder # 7 – Talk Less and Listen More
A wise old man once told me, "Act dumb and you'll be amazed how much you will learn." [ClickToTweet] E'nuff said.
Reminder # 8 – Pray More
Work like everything depended on work. Pray like everything depended on prayer. When you spend more time working than praying; you lean on your own strength. [ClickToTweet] God loves a man who prays and works diligently.
Reminder # 9 – Re-Strategize
So what if this doesn't work, re-strategize. To re-strategize you must have been able to learn from your past failures. Be a passionate student all your life. You have only failed when you give up. Be the first to accept the failure and be the last to give up. [ClickToTweet] Go on your knees and ask God the ultimate question, "What next?" and when you get that answer, don't forget to stay there to ask, "How and when next?". We need to know from God what and how and when He wants us to do it. [ClickToTweet]
Reminder # 10 – Humility Precedes Promotion
Thank God for this opportunity to humble. Thank God for this opportunity to weep before His presence. God loves a broken and contrite spirit. God fights the proud. Take this opportunity to lower yourself to the ground and watch the Lord glorify His name through your life!
Now go pursue God. Hey but hold on, leave a comment below and let me know what's the biggest lesson you've learnt in your problems. Don't forget to share this with your friends and family. Be blessed!!!!