When churches come together in humility and tears to seek the face of our Master, heavens must open above. We believe that God is sending Revive Nations for a time of renewal in the Middle East, starting with UAE.
From 8th to 13th of July 2015, we will be in UAE hosting Tent Of Meeting leadership training and Revive Conferences in Dubai, Abu Dhabi and Sharjah.

I want to take this moment to encourage all our believer friends to share this good news to your family and friends in UAE.
Tent Of Meeting is exclusive training for leaders in the ministry and we are excited to announce that candidates from other countries are joining in as well! The Speakers for this TOM are Pastor Priji Varghese, Evangelist Hari Rao and myself.
If you are in the ministry and passionate about taking it to a new level in God, I encourage you to book your seats today. See full info here.
The Revive Conferences are one evening only in each location and I encourage you to travel with us on this Revive Journey in all the three Emirates.
The venue information will be sent to you upon your registration. Let's see the Holy Spirit sweep each city to city to city.
Here are seven ways that you can be a part of this move
1. Join us in UAE for these conferences. See the dates and register here.
2. Be a part. Inform and encourage your church to be a part of this event.
3. Support these events. Sow a seed of any amount to support the vision. Please visit here.
4. Download the brochures for email or social media here.
5. Sponsor a pastor or leader to attend TOM. Visit TOM page here.
6. Spread the Word to your family and friends in UAE. You can use the Facebook Event from here and invite your family and friends.
7. PRAY! We need a group of people that will commit to fast and pray!
8. Receive Notifications by downloading our mobile app here.
Here are quick tweets for your use:
Block your dates for Revive UAE, visit ReviveNations.org/UAE for more details.

[tweet this]
Pastor @ShyjuMathew visiting Dubai, Sharjah and Abu Dhabi. Don't miss ReviveUAE! ReviveNations.org/UAE

[tweet this]
Tent Of Meeting happening in UAE! Register your seats now!

[tweet this]
Here are few images you can use for Facebook, Instagram or email: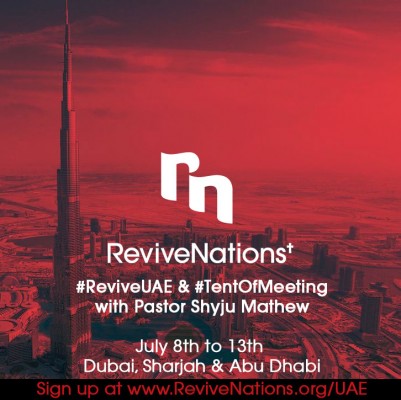 As always, I love hearing from you. If you are in UAE or if you are able to join us in prayer and fasting even if it is one meal from July 8th to 13th, please let me know about it in the comments below.
I am honoured to be sent by the Lord in a time such as this.
Much love!
All because of Christ,
Shyju
Register on the website: