This post is in regard to a recent incident in the Indian capital, New Delhi where a young girl was gang raped and brutally assaulted in a moving bus.
Someone forwarded to me a rant by Ram Gopal Varma (a prominent Indian filmmaker) about where was God while this gruesome incident was happening.
Here's a screen shot of his comments.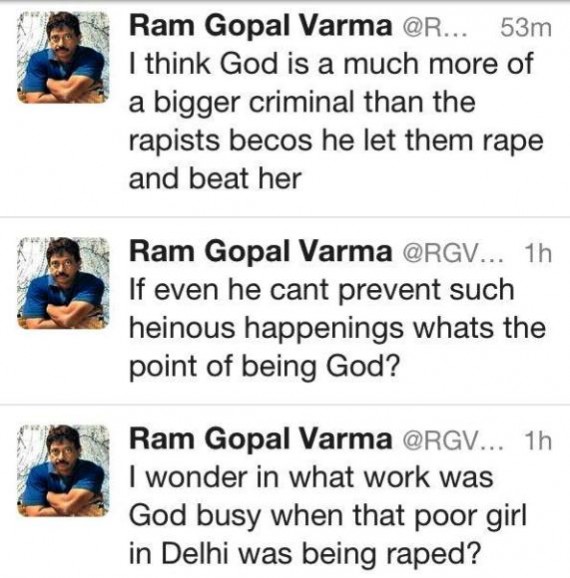 Now I am least concerned about his convictions and imperfections, but I want to answer the questions that are being raised with respect to God, especially after this incident that has disturbed many believers and nonbelievers alike.
Whether it was the 9/11 or the 26/11 or any other shocking evil, the question has always been the same.
Where Was God? Did God Know About This or Was He Busy?
The Bible is clear that not only does God knows everything, but He also works everything according to His will. God is in sovereign over all things.
"This 'all things' includes the fall of sparrows (Matt 10:29), the rolling of dice (Prov 16:33), the slaughter of His people (Ps 44:11), the decisions of kings (Prov 21:1), the failing of sight (Exod 4:11), the sickness of children (2 Sam 12:15), the loss and gain of money (1 Sam 2:7), the suffering of saints (1 Pet 4:19), the completion of travel plans (Jas 4:15), the persecution of Christians (Heb 12:4–7), the repentance of souls (2 Tim 2:25), the gift of faith (Phil 1:29), the pursuit of holiness (Phil 3:12–13), the growth of believers (Heb 6:3), the giving of life and the taking in death (1 Sam 2:6), and the crucifixion of his Son (Acts 4:27–28)."
Source: John Piper, "Why I Do Not Say 'God Did Not Cause This Calamity, But He Can Use It For Good."
Why Does Evil Exist?
To understand this, we need to look through a wider lens.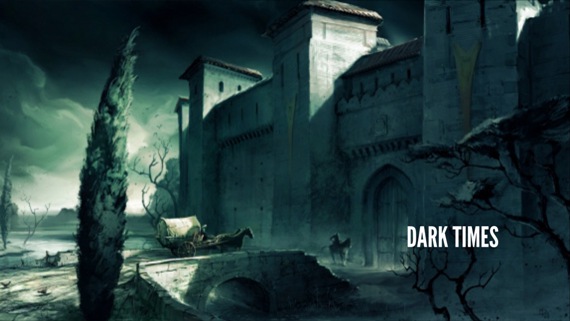 C. S. Lewis writes, "God created things which had free will. That means creatures which can go either wrong or right. Some people think they can imagine a creature which was free but had no possibility of going wrong; I cannot."
Remember, if a thing is free to be good it is also free to be bad. And free will is what has made evil possible.
Why Then Did God Give a Free Will?
Because free will, though it makes evil possible, is the only thing that makes any love or goodness or joy worth having. A world of automata – of creatures that worked like machines – would hardly be worth creating.
And If He is God (All Knowing and Powerful) Why Does He Not Intervene?
Here is a great Facebook response to this question by Melissa Tan (edited):
"Bad things happen to good people. It saddens the world that an innocent girl falls victim to such vice. But isn't it unfair for man to blame God for the wrong decisions that man himself makes. If God were to be held responsible for every decision that man made, it would have been a very scary life we would be leading. God would be throwing thunder bolts at almost all of us. We all make wrong decisions, we all sin. Let him who has not sin cast the first stone. Man should be responsible for our own decisions and we should be thankful that God is graceful enough to forgive us…"
Join us on Facebook here.
Yet, the truth is none of the wickedness and evil will miss God's eyes.
The Difference in God's Intervention
According to Ram Gopal Varma, God has not immediately intervened so must be criminal or busy.
Is it felt as a problem by the secular mindset – that God is kind to sinners?
It is true that a holy and righteous God makes the sun rise on the evil and the good and sends rain on the just and the unjust (Matthew 5:45)
God does not intervene the way a man does. It would in fact shock many if they were told that these six brutal men involved in the incident would be pardoned by God if they were to truly repent.
The secular mindset does not see the problem or the solution the way a biblical mindset does simply because we live in a society that wants "eye for an eye," but does not conform to the standards of God.
The Bible says in Romans 3:23, "All have sinned and fall short of the glory of God." All of us will be equally judged for all our sins, if we do not fall before God and seek His mercy and pardon.
Now when many like Ram Gopal Varma lose sleep over the unrighteousness of God's kindness to sinners, it is God's righteousness to man that we are not immediately judged.
The truth is that God's patience does come to an end and He will destroy the unrepentant sinners to eternity in hell.
How About the Victims of Evil?
Now Jesus did not say there won't be problems, but He promised us peace beyond understanding. The pain and the sorrow are real and the trials are hard to endure.
However as believers we know there is glory in the trials and sufferings we face. Peter comforted the Christians in Asia Minor by reminding them, "In this you rejoice, though now for a little while, if necessary, you have been grieved by various trials, so that the tested genuineness of your faith – more precious than gold that perishes though it is tested by fire – may be found to result in praise and glory and honour at the revelation of Jesus Christ" (1 Peter 1:6–7).
Even Jesus is aware of and acquainted with the sufferings of man. He is acquainted with your pain. Jesus faced agony to the point of sweating blood (Luke 22:44).
Any trial or suffering we go through is a testing of the genuineness of our faith. As James1:2-4 say, "Consider it pure joy, my brothers and sisters, whenever you face trials of many kinds, because you know that the testing of your faith produces perseverance. Let perseverance finish its work so that you may be mature and complete, not lacking anything."
Romans 5:3-5 says, "Not only that, but we rejoice in our sufferings, knowing that suffering produces endurance, and endurance produces character, and character produces hope, and hope does not put us to shame, because God's love has been poured into our hearts through the Holy Spirit …"
All that we go through in life as believers, the Lord will give us grace to overcome and to be victorious for the glory and honour of our Lord Jesus.
In Conclusion
We all have sinned and we all need forgiveness. We all have to go through different kinds and levels of pain and we need Jesus to help us through.
In this evil world, the only hope to both the perpetrator of evil and the victim is JESUS. [ClickToTweet]
The Bible says, "Your iniquities have made a separation between you and your God, and your sins have hid His face from you" (Isaiah 59:2).
Hebrews 9:26 says, "Christ appeared once for all at the end of the age to put away sin by the sacrifice of Himself." God still hates sin. This painful season as we ask these questions, let us also embrace the truth of Jesus our only hope who carries all our burdens.
In asking Him to come to our heart, Jesus will come into our heart and He will wash away our sins and give us the grace, hope and strength to live this life in this evil world! [Know more about Jesus here.]
What have you to add from your side? Please use the comment section below. Eager to hear from you.