When we left from India in obedience to God's command, I did not fully comprehend God's plans for us in Canada. All I knew was that He asked me to stop travelling for a year and go pastor the youth of this predominantly Italian & multicultural church in Montreal.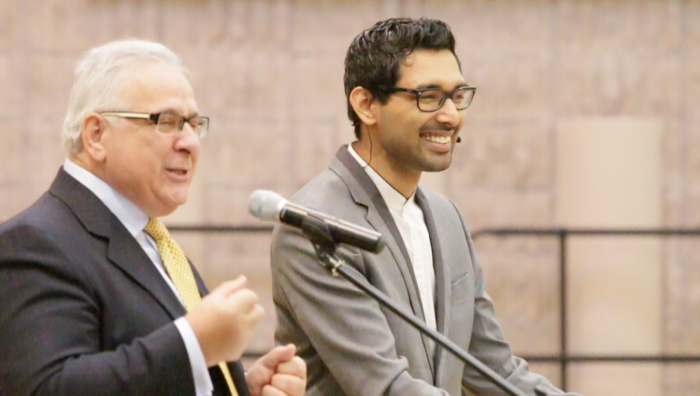 I anticipated it to be the hardest thing for me and it didn't make complete sense to why God would lead me in this direction. However, the last one and a half year have been crucial to the realigning of my heart to God's call and purposes.
During this time, due to various reasons, three pastors including the Senior Pastor resigned leaving me as the only pastor on staff. We felt God asking us to stay where He led us to and to continue serving the church during that time of need.
Surely, there was a need for a shepherd in this church but I was convinced that there had to be a greater reason than merely meeting a need. Because if need was my motivation then I wouldn't have left my country, India of 1.27 billion people, in response to God's call. He had to speak loudly and I needed to hear clearly.
Following the letter of consideration to be the Senior Pastor, I had to discard three different drafts of my negative response because something in my spirit made it difficult to say "No". God once again used his prophets to speak over and over about how He was in this, just like He had confirmed before I left India.
At this point I can say without a doubt, as clear as I knew that I had to leave to Canada that God wants Tiny and I to go down this road leading His people.
For How Long?
This is a question many have asked. But by now I have learned something from my past mistakes. I often declared how I would never be a pastor but God proved me wrong. I should have known better to ask Him first. So I must be honest to say, I don't know how long. As long as God asks me to is the best and only response I have.
What About Revive Nations?
There is nothing changing about Revive Nations. If anything, we are only going deeper into what God is calling us to do as a family and ministry along with our partners. I strongly believe the collaboration with this church is only going to strengthen our reach to touch the nations for the Lord.
This question also led me to go back to the five core purposes of Revive Nations (see here). One of them is to equip churches, which we have been doing so for the longest time for 5 churches that have been under our direct leadership covering. Now accepting this role as the Senior Pastor will only be an extension of that ministry commitment to invest into the body of Christ.
Will You be Travelling?
My first commitment is obviously to bring stability to where God has planted me but in a few months from now, I will be open to travelling again in a limited capacity. (View upcoming meetings here.)
To My God-Given Family in Montreal
"I come to my new assignment with a heart crying out for God's multiplied grace, humbled by this great responsibility and grateful for the confidence the leaders and the church has shown in appointing me as the Senior Pastor. May the Lord lead us in His mercy and favour."
To Revive Nations Friends and Family
I need your prayers and support now more than ever before. Can I request you to pray an additional two minutes for us? Tiny and I know that we cannot do this without your prayers and His grace.
I request you to continue to support our ministry so we can continue to invest into nations, the churches and leaders that require our support both financially and spiritually.
I eagerly wait in the Lord before He sends me to your country in His time and fashioned by His ways. Till then we rest in the Lord.
For Those in Montreal
If you are in Montreal and already attend a spirit-filled church, please continue to go where God has planted you. To see you becoming a spark of revival in your own Church will make my joy complete!
And we will, God-willing, see you at the monthly Ablaze conference with the blessings of your Pastor. The unity of the churches is very important to us. We are one body, one team and we desire that all the churches grow.
Because of Christ,
Shyju & Tiny Mathew
Latest video update:
For more video updates, please do subscribe to our official YouTube channel here: