In my time of prayer a few days ago, the Lord led me to intercede for the Middle East. I write to you from the State of Kuwait. During that time, I felt God bring to remembrance what my dear Senior Pastor preached almost a decade ago.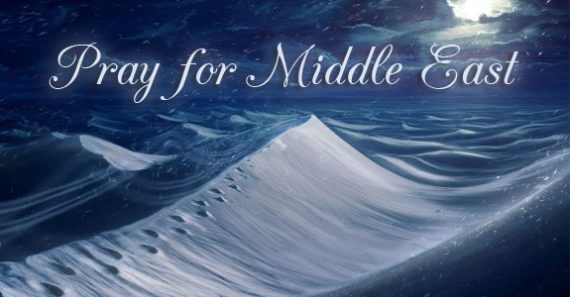 In the Old Testament, when Israel left Egypt, with it their economy fell as millions of slaves – their work force – left the curse of slavery. During those times of great recession and confusion, God was setting His people free to go to their Promised Land!
Chaos in the land does not mean the absence of God – God is always at work; even now! [Click To Tweet]
We are in the midst of one of the most crucial moments in the Middle East – "The Arab Spring".
The Arab Spring is a revolutionary wave of demonstrations and protests occurring in the Arab world that began in December of 2010.
So far, rulers have been forced from power in Tunisia, Egypt, Libya, and Yemen; civil uprisings have erupted in Bahrain and Syria; many protests have broken out in Algeria, Iraq, Jordan, Kuwait, Morocco, Sudan, Lebanon, Mauritania, Oman, Saudi Arabia, Djibouti, Iran, Western Sahara and others.
In this season of confusion, the Church in the Middle East must look to God, the author of Peace.
Springs in the Desert
The Arab Spring is a revolution in the natural. But God desires to bring a divine revolution in the Church!
Here is what the Bible says, "Behold, I am doing a new thing; now it springs forth, do you not perceive it? I will make a way in the wilderness and rivers in the desert." Isaiah 43:19
Calling the Church
In prayer, God showed me that the Church needs to rise and take that rod of authority. Violence has never quenched the church. History has always showed us that multiplication followed every persecution.
I write to say it as God sees it; it shall rain in the desert. God's rain will fall upon your land. I'm writing to encourage churches and groups to come together and pray like never before. It will rain!
Create Your Action Plan
Seek God like never before. Meet every day to seek God as the apostles did. Declare a time of fasting and prayer for the land that God has planted you in. Go back to the all night prayers. Seek God for a revival and a renewed hunger! Pray that the rain of God will rain upon your church, city and country!
Do anything you are led to do except nothing! God will release His glory upon you and your church and it shall fill your land.
I pray that you would take this word seriously. Our ministry would like to stand in the gap for the Middle East that God would release upon His bride a special grace and mercy in this season. Connect with us in faith for the same.
Don't forget that Revival starts with you, in you and through you! [Click To Tweet] Let it rain!
Would you be the one to take initiative? Let it start with you!