But first, Greetings! Greetings! Greetings! 2012 is finally here!
I almost could not wait to tumble into 2012.
If you've had a shaky 2011, I strongly recommend you to read our last post of 2011, "15 reminders for uncertain times."
And as a small new year's gift, here's our newsletter and the video we made for our partners for this month and year. You can also choose to receive our monthly ministry newsletter by partnering with us 

here

. (Added bonus: You receive my first book for free!)

It is always a pleasure to pray with you and even more so as we step into the new year. I hope you were blessed with the newsletter and the video!
Baby on Board!
We want to take this moment to announce that the Lord has blessed us. Tiny Mathew, my wife is pregnant and we are expecting our first baby in March 2012. I am excited, scared (a bit… at the thought of being a father), delighted – all at once. I will keep my thoughts about becoming a father for another time but for now I just want to share that the Lord has been keeping Tiny and the baby well. I will keep you updated. Can I kindly request you to keep us three in your prayers? Please pray that the Lord will anoint, lead, provide and guide us for His glory.
GTH Stats
I'm also excited to share that we start off GTH this year with the renewed focus of edifying and empowering the body of Christ. Stay tuned for an exciting announcement next week. I hope you have already subscribed to this blog, if not take a second to subscribe here or at the right side bar.
In 2011 we got 112,775 Visits to our site (compared to 59,397 in 2010), out of which 61,768 New Visitors with 284,841 Pageviews. Interestingly 7,400 of those visits was on a mobile phone.
Top 10 countries in order of most visits in 2011 are:
India, United States, Malaysia, Canada, UAE, Kuwait, Australia, South Africa and Phillipines.
Here are the top 10 popular posts of 2011:
Congrats to our Top 10 Commenters of 2011:
Jherrel Peters = 118

Bernadine Wicket = 76

Binsu Robinson = 71

Tulasi =  55

John Kenny Kumar = 45

Preethi = 40

Sharon = 29

Elizabeth Mathew = 19

Princy = 17

Kenneth Justin Prabhakran = 16
Good news, there will be a surprise gift for 3 people with the most number of comments for 2012. We would love for you to be among the top commenters next year. Here's something you should do.
Use the same name /email id consistently.

Sign up for a gravatar image at G

ravatar – Signup

, so when u put in your email id, your image shows up on its own. Feeling adventurous and techy?  You can use Disqus to sign in too. Check here for Disqus.

Like someone's comment? Click the like button next to their comment. The more value you add to the post, the possibilities are that you get more likes from people who read them. We hope that you will be able to contribute more from this year.
Support GTH
I just want you to know (if you were ever wondering… perhaps not!) that the greatest gift that you can give us on GTH as a writer here is to simply tell other people about the resources that we've created for you!
Whether it's emailing some of the links and/or content to a co-worker, or even using the social buttons on the left to share the GTH blog – it's all a blessing to us!
One of our friends asked for a code to make it easy for him to put it up on his blog and I thought it would be good to put it up here for anyone that would like to use it on their site.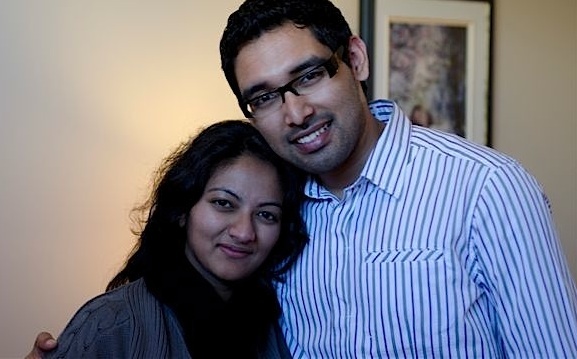 Thanks again to all our partners and friends of this ministry – I appreciate YOU!
Wishing you once again a blessed and prosperous new year 2012! Stay tuned for some awesomeness next week onwards!  
Love,
Shyju, Tiny & the baby.
What was your favorite GTH post of 2011? Do you have something you are excited about in 2012? Is there something that you want the most from God this year?