From time to time God sends along side me some friends of God. All of them very unique but there's one quality that seems to be consistently seen in all of them – they want to be anonymous! With that I'll let you read on today's guest post. Thank you Mr. Anonymous for writing your thoughts down so I can share it with our GTH community. 
The fear of being left alone remains one of man's greatest causes of concern attracting worry, despair, dread, and anxieties beyond measure. Since the time of creation God said it was not good for man to be left alone but sometimes it becomes necessary so He can take us to that level of spiritual maturity He wants to produce in us. Many of us shun those difficult periods of aloneness but I believe we should instead embrace them. When we are able to abandon our human strategies, know how and reliance on our resources, only then can we learn to clutch onto that intimacy with God. It is during our weakest state that we experience the strength of God.
When Jacob Was Left Alone…
Such was the case for Jacob at Peniel before he set out on his journey to encounter his brother Esau and while fearing for his own life. The scriptures tell us that, "And Jacob was left alone and there wrestled a man with him until the breaking of day". In the face of adversity Jacob learned that when a man's ways please the Lord, He makes even his enemies to be at peace with him. Wrestling with God permits Him to pin us down. It may even hurt during the process but the shaping of our character will forever change our relationship with Him, and with those that surround us.
After this encounter with God, Jacob was never the same! He learned to lean always on God and not on his own understanding. You see, God must sometimes dislocate certain functions in our faulty character in order to produce His desired will for our walk with Him. Jacob wrestled in the night surrounded by darkness. But the story ends with the sun rising upon him and halting on his thigh. There is a ray of sun about to burst upon you in your darkest moment. Trust God in your weakness.
 When Hagar Was Left Alone…
Hagar was young and pregnant with a child when her mistres Sarah treated her harshly and she had to flee into the wilderness. Hagar was left all alone but this was the first time she learned that while nobody was around her, there was a God that heard her affliction and saw her plight. She even named the fountain of water in the wilderness the well of Him that lives and sees me. Hagar came from a pagan culture that worshipped idols – dead 'gods' who couldn't see or hear. But the God of Abraham was living and real and wanted to enter into a relationship with her. He commanded her to submit to Sarah and then blessed her future generation.
Some time later after the birth of her son she was cast out of Abraham's home, once again entering the wilderness. This time she became reacquainted with her blessing and God saved her and her son from dying out of thirst. God's ears were attentive to their cries. It was in the face of rejection and loneliness in the desert that Hagar had an encounter with God and she received a revelation of Him she had never known before.
When Wilderness Became a Place of Acquaintance With God
For both Jacob and Hagar, the wilderness became a place of acquaintance with God. No longer would there be a superficial relationship of religion playing but of heartfelt worship and communion with a personal God. Jacob the supplanter received a new name and a new mission. Hagar received a new lease on life and a new future. On both occasions there was angelic presence to bring hope to a desperate situation.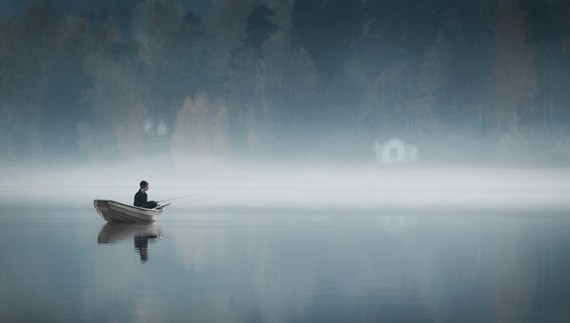 Even after the temptation in the wilderness our Lord Jesus was left by Himself and was ministered to by angels. During His agony of prayer alone and while the disciples slept an angel came to strengthen Him. Who knows? Perhaps in your darkest moments when it appears that there is not a single person we can lean on or who will stand with you in prayer, God will send his angels to bring you comfort.
You Are Not Alone
Today you may feel alone and that nobody cares. But remember that there is an Omnipresent God who lives, hears and sees whatever you may be going through. You are not alone and the source of living water that will quench your thirst is right before your eyes. Unless you abandon yourself to Him He cannot remove the veil that will uncover the endless supply He has in store for your spiritual nourishment.
Discuss: Can you recall those phases in your life when you felt you were left all alone? I am eager to know how did those moments strengthen your walk with God?